INTRODUCING THE SOOTHING SMART AMBIENCE LAMP
In a world filled with chaos and distractions, discovering true peace of mind is a quest we all embark on. It isn't about our surroundings or possessions, but rather a mood catalyst that helps us feel "just right."
We understands the importance of inner peace and well-being, which is why we've designed the Smart Ambience Lamp. This versatile lamp transforms your home into a serene sanctuary, offering soothing effects for sleep, study, meditation, and relaxation.
KEY FEATURES:
Alarm Clock
APP-Controlled Lighting
Bluetooth Speaker
Phone Answering Capability
Simulated Sunrise Wake-Up Light
16 Million Light Colors & 256 Light Modes
15W Wireless Fast Charging (Compatible with all Qi-enabled devices)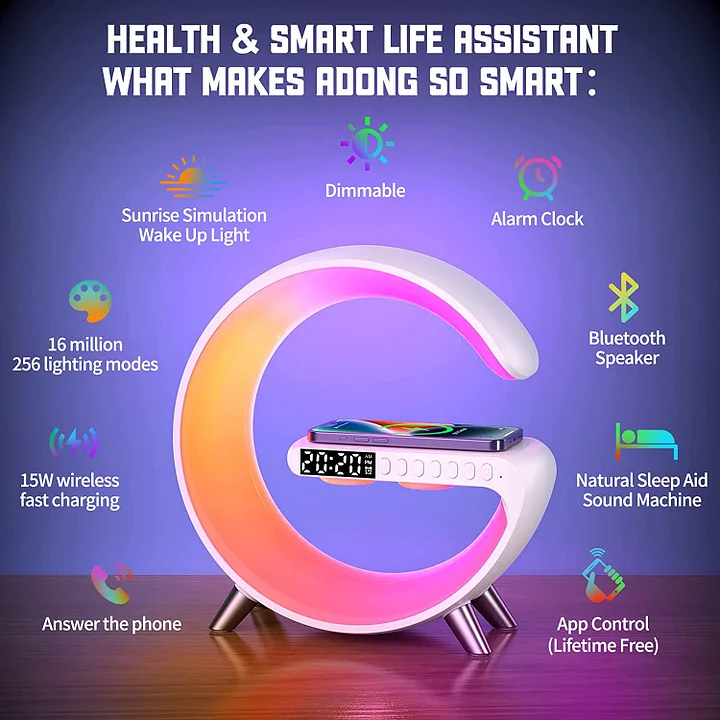 MIND & SPIRIT HEALING: Lights and colors play a vital role in our lives, affecting our minds, bodies, and emotions. Chromotherapy, or color therapy, uses specific color lights to address needs such as promoting positive energy or reducing anxiety. The Smart Ambience Lamp offers a harmonious blend of colors, brightness, and intensity with its 16 million light colors and 256 light modes. Customize your lighting experience to match your mood with a simple tap.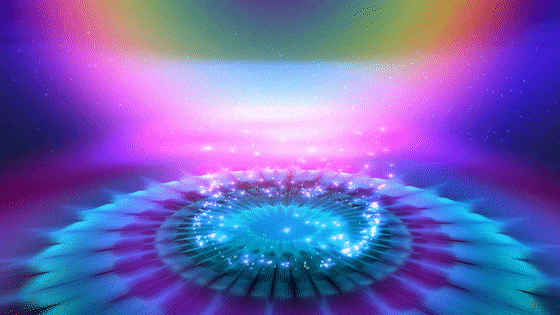 SYNC LIGHTS WITH YOUR FAVORITE MUSIC: The lamp's high-quality built-in Bluetooth speaker pairs perfectly with your favorite songs and playlists, creating a relaxing atmosphere with synchronized lighting effects. Just turn on the lamp, sit back, and unwind.
NIGHT LIGHT & WIRELESS CHARGING: The Smart Ambience Lamp takes care of you throughout the night. Activate Night Light Mode with a single tap for gentle illumination during late-night bathroom trips or room navigation. Keep your Qi-enabled phone charged and ready with the built-in 15W wireless charging pad and a 5W USB Type-C output for other devices.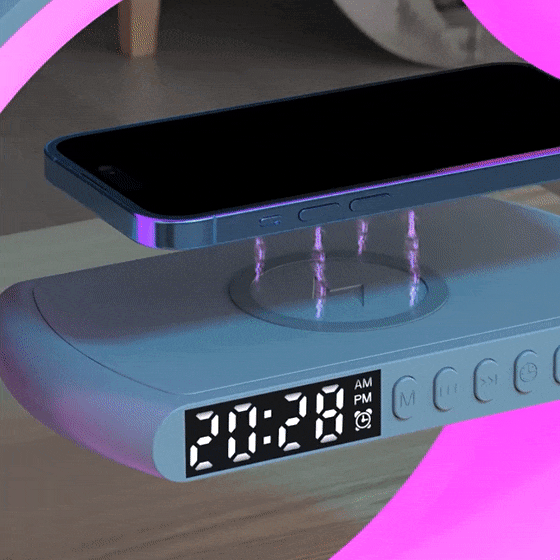 STRIKING DESIGN: The visually appealing G-shaped design of the Smart Ambience Lamp beautifully complements its vibrant lighting effects, creating an eye-catching beacon of light in any setting.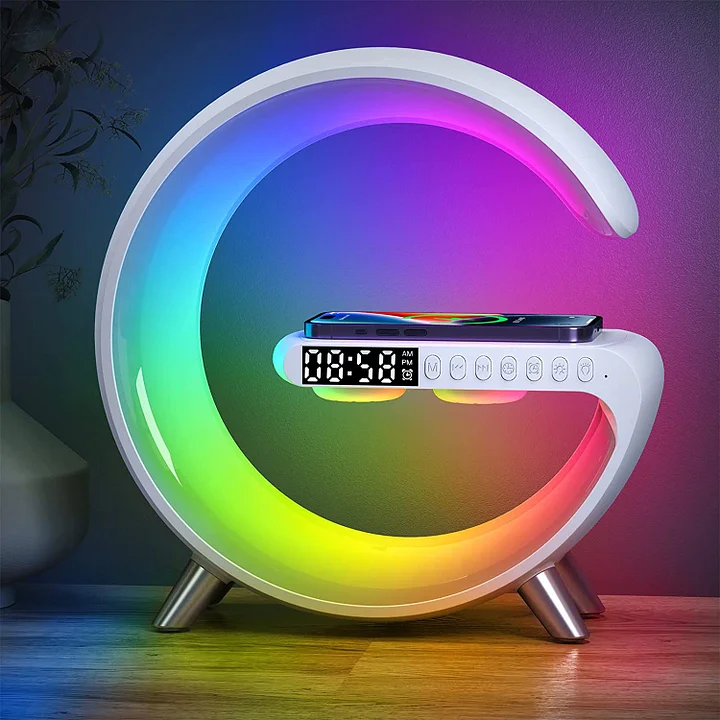 IMPROVED SLEEP & REFRESHED WAKING: The lamp's sleep features, including Sleep Mode with a calming night light or soothing white noise, help you rest better. Wake up gently with the simulated sunrise wake-up light and up to two relaxing alarms.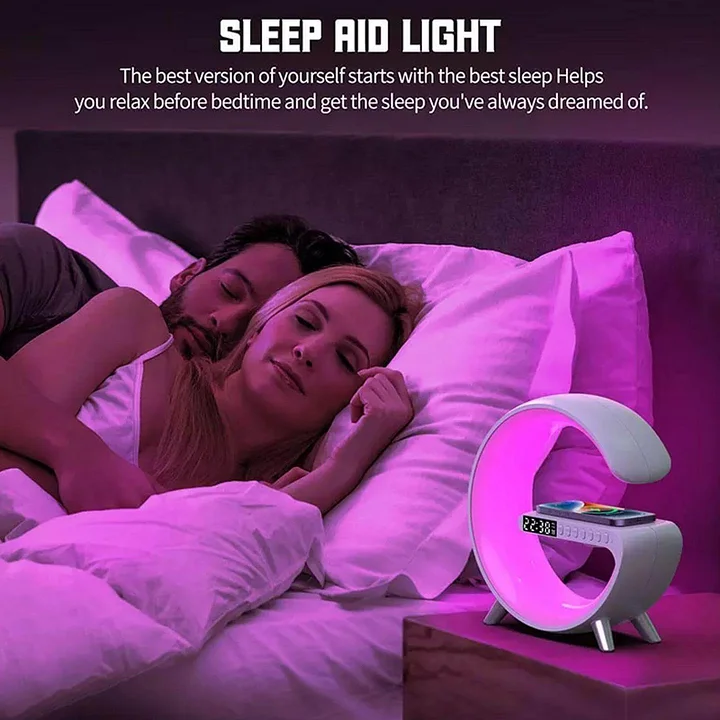 PORTABLE AMBIENCE FOR OUTDOORS & MORE: Weighing only 700g and powered by USB Type-C input, this compact lamp is perfect for outdoor family gatherings, camping trips, or backyard dining.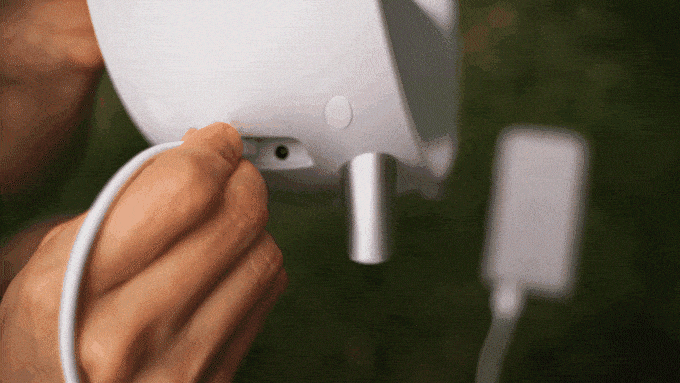 SPECIFICATIONS
Color: White, Black, Gray
Material: ABS, PC, Metal
Communication Mode: Wi-Fi (2.4G)+ BLE module
Control Mode: Button control, APP control
Input: Adapter 24W (12V 2.5A), DC input
Output: Type-C output (5V 1A)
Power: 24W (MAX)
Speaker: 3W
Weight: 700g/1.5lb
Size: 22.9×8.4×23.1cm/9×3.3×9.1in
Wireless Charge: Max 15W (maximum transmission distance: 3-8mm)
Working Environment: Temperature: 0-45℃, Humidity: 0%~80%RH
Storage Environment: Temperature: -20-65℃, Humidity: 0%~90%RH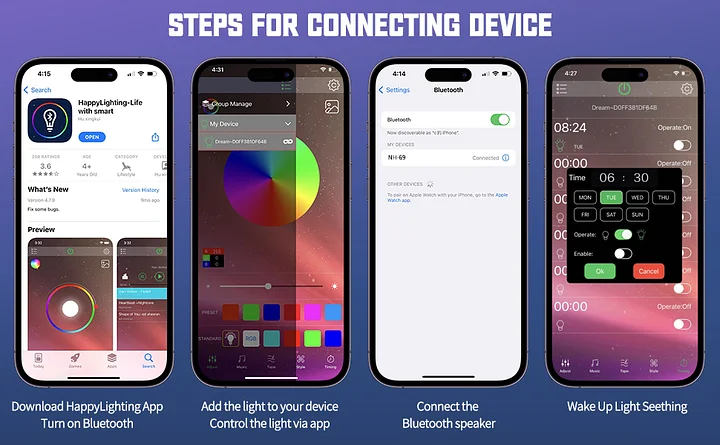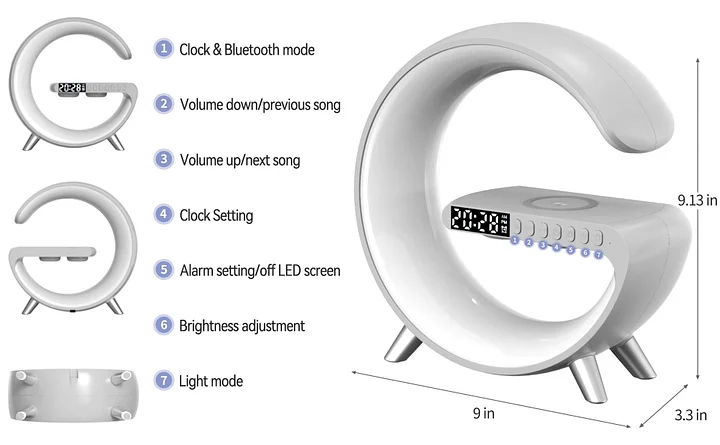 PACKAGE CONTENTS
1× Soul Therapist Smart Ambience Lamp
1× USB Power Cord
1× User Manual
1× Adapter